I have the best neighbor! I have been getting fresh vegetables put on my patio from our rear neighbor! I got the largest zucchini ever, and thought I must make a fabulous bread. I never made zucchini bread before, so I looked up a few recipes and found this one.
Wow, this was awesome! I mean truly wicked!! I sub'd a bit....but that is typical for me!
You have to try this out, its worth the effort.
I brought over a loaf for my neighbor and he was floored! It felt to give something back. I love the boomerang effect of doing a good thing.
I found this recipe....thanks!!!
http://www.101cookbooks.com/archives/my-special-zucchini-bread-recipe-recipe.html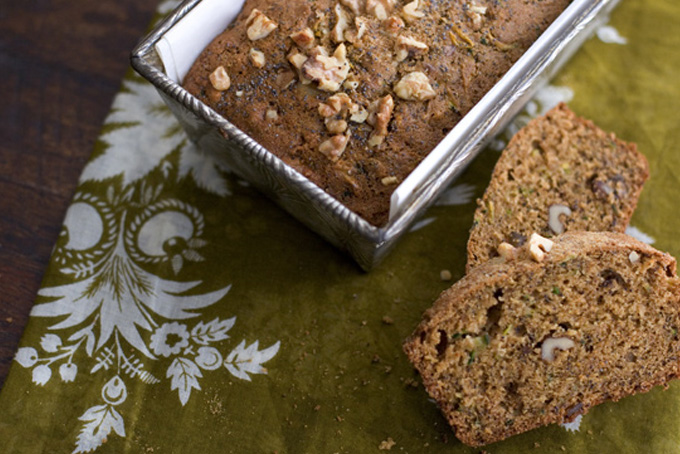 My Special Zucchini Bread Recipe
A time-saving tip: if you have a food processor with the grating attachment, use it to shred the zucchini. It will perfectly shred three zucchini in about five seconds. On the flour front, this recipe calls for whole wheat pastry flour, it lends a nice, tender crumb to the zucchini bread - feel free to swap in unbleached all-purpose flour if it is more convenient or happens to be your flour of choice. Also, this recipe calls for curry powder, I also did a delicious version with a Raz el Hanout spice blend from one of my favorite local spice blend producers, highly recommended! Just swap in 1 tablespoon of the Raz el Hanout in place of the curry powder.
1 1/2 cups chopped walnuts, plus a few to sprinkle on top ( I sub'd with pecans and hulled pumpkin seeds)
1/3 cup poppy seeds (optional)
zest of two lemons (optional)
1/2 cup crystallized ginger, finely chopped (optional)

1/2 cup unsalted butter (I used earth balance)
1 cup sugar ( I sub'd with 1/2 cup of agave nectar)
1/2 cup fine grain natural cane sugar or brown sugar, lightly packed
3 large eggs
2 teaspoons vanilla extract

3 cups grated zucchini (about 3 medium), skins on, squeeze some of the moisture out and then fluff it up again before using (I used 2 cups of grated zucchini and added 1 cup of grated carrots)

3 cups whole wheat pastry flour (or all-purpose flour) (I sub'd with Spelt flour)
1 1/2 teaspoons baking soda
1/2 teaspoon baking powder
1 teaspoon salt
1 teaspoon cinnamon
1 tablespoon curry powder (optional)

Special equipment: two 1 pound loaf pans (5 x 9 inches)
Preheat your oven to 350°F. Butter the two loaf pans, dust them with a bit of flour and set aside. Alternately, you can line the pans with a sheet of parchment. If you leave a couple inches hanging over the pan, it makes for easy removal after baking. Just grab the parchment "handles" and lift the zucchini bread right out.
In a small bowl combine the walnuts, poppy seeds, lemon zest, and ginger. Set aside.
In a mixer, beat the butter until fluffy. Add the sugars and beat again until mixture comes together and is no longer crumbly. Add the eggs one at a time mixing well and scraping down the sides of the bowl between each addition. Stir in the vanilla and then the zucchini (low speed if you are using a mixer).
In a separate bowl, combine the whole wheat pastry flour, baking soda, baking powder, salt, cinnamon, and curry powder. Add these dry ingredients to the wet ingredients in two batches, stirring between each addition.
By hand, fold in the walnut, poppy seed, lemon zest, and crystalized ginger mixture. Save a bit of this to sprinkle on the tops of the zucchini loaves before baking for a bit of texture. Avoid over mixing the batter, it should be thick and moist, not unlike a butter cream frosting.
Divide the batter equally between the two loaf pans. Make sure it is level in the pans, by running a spatula over the top of each loaf. Bake for about 40-45 minutes on a middle oven rack. I like to under bake my zucchini bread ever so slightly to ensure it stays moist. Keep in mind it will continue to cook even after it is removed from the oven as it is cooling. Remove from the oven and cool the zucchini bread in pan for about ten minutes. Turn out onto wire racks to finish cooling - if you leave them in their pans, they will get sweaty and moist (not in a good way) as they cool.
Makes 2 loaves.